Today marks 2 weeks since schools across BC have been open, and during that time there have been 31 exposure events, and luckily 0 outbreaks of COVID-19. Of those 31 exposure events, 23 of them have been located within the Fraser Health Authority, and 15 have been located specifically within the Surrey school district. These events, plus a perceived lack of safety measures has lead to children from different schools staging different forms of protests.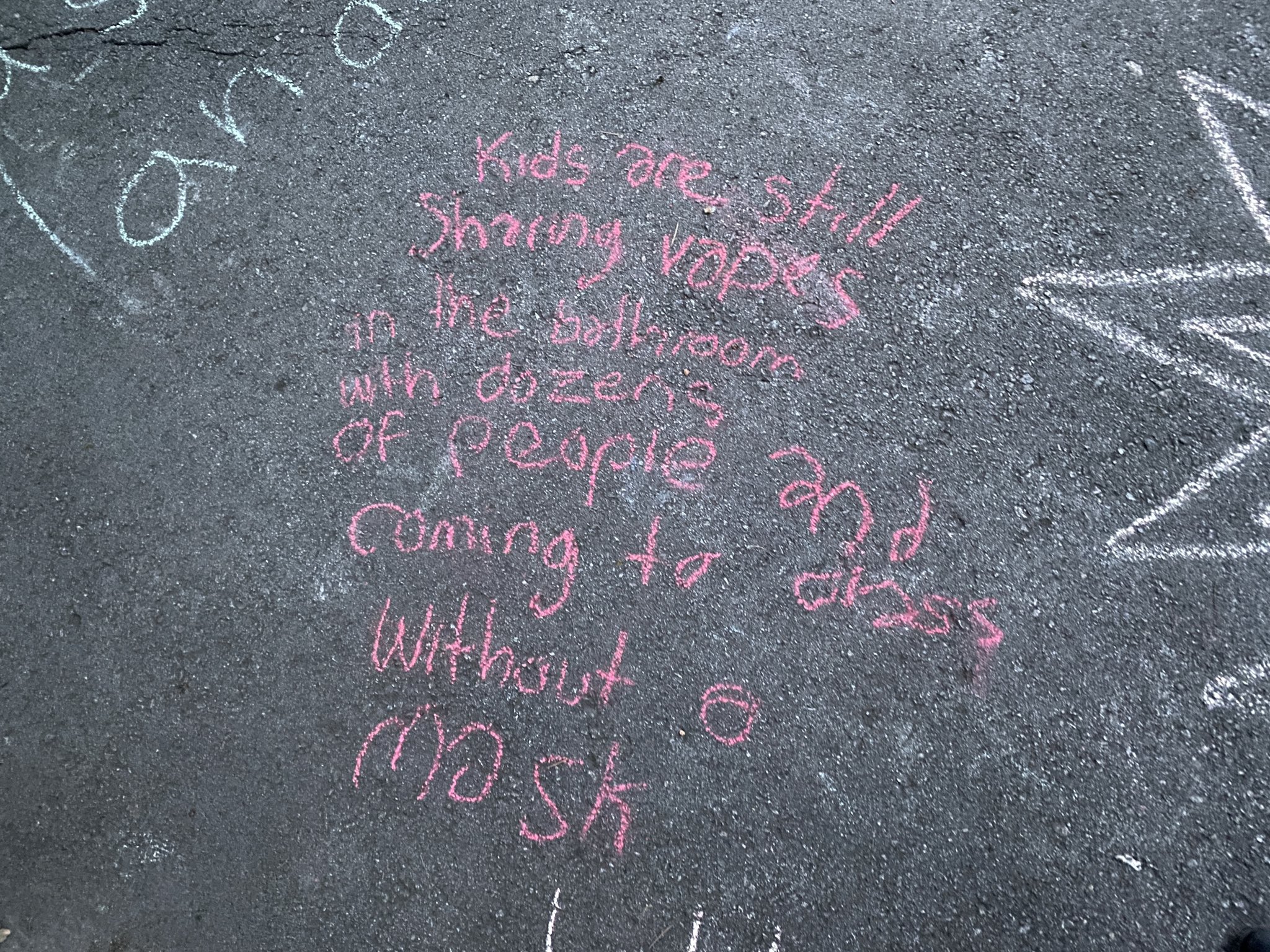 Outside of the Fraser River Middle School in New Westminster, chalk messages have been left expressing fear and frustration with the administration. At New Westminster Secondary School, the students instead orchestrated a protest "die-in" in front of the school district administration building. School district superintendent Karim Hachlaf seemed to welcome an open dialogue on the issues when speaking of the event later, but it remains to be seen if any specific actions will be taken to address the concerns.
In related news, a teacher who works at Sentinel Secondary School in West Vancouver has filed a claim with WorkSafeBC over the handling of an exposure event at their school which may have led to their own COVID-19 infection. The teacher was not informed by public health contact tracing about the potential exposure, despite the student who tested positive being in her class. The teacher did not find out about the exposure event until students in her class, who had been contacted by contact tracing, informed her of the situation. While it is uncertain if the teacher became infected from their exposure at school, or some other way, the failure to let the teacher know about the exposure event in their own classroom will likely spark concern with other teachers.
In other news, as the CERB program winds down and people are transitioned to an enhanced EI program, the new Canada Recovery Benefit or CRB will be coming into place for all the people whose employment is affected by COVID-19, but do not qualify for EI. And today the CRB has been bumped up an additional 25% to match the support level of the previous CERB. Like CERB, reporting will be done every 2 weeks, but opposite to CERB, the payments will be made out after the reporting period instead of in advance.
The Polish pharmaceutical company Biomed Lublin has taken the first steps towards creating the world's first Plasma-Derived COVID-19 Drug. So far they have collected 150L of plasma containing COVID-19 antibodies, from blood donation centres. They are hoping to be able to release their new drug for clinical trials by the end of October this year. Trials are expected to last about 4 months, at which point they expect to take the drug into production. There is no timeline for when the product might be available on shelves, or how widely available it might be, especially due to the limited supply of plasma with COVID-19 antibodies.
That's all for now, stay safe everyone!