Weekly Charts
As you can see from the above chart, over the last week we saw about 1000 more new cases reported than we did the previous week, and almost double the total number of new cases than we saw the week before that! Our new case numbers continue to be a concern, and in the live Public Health conference this afternoon, it was implied that we may see further restrictions on Thursday if numbers do not begin to drop, or show signs of dropping soon.
In the last 7 days, the record for the most number of new cases reported for a single day was broken a whopping 4 times (Nov 12, 13, 14, and 15), with the current record sitting at 659 cases. The record was broken a total of 7 times in October and has now also been broken 7 times so far in November. This trend is concerning, to say the least.
Looking at the weekly growth rate we see what may be the beginning of a flattening curve. For the last 3 weeks, the growth rate has stayed within the ~25-50% range. These numbers are still very high, and what we need to see at this point is a negative growth rate, to shrink our numbers to more manageable volumes. So while we can't call this "good news", it may be the first step on the way to actual positive news.
It is also good to remember that since we are now 16 days into November, these current numbers now include cases that were infected over the Halloween weekend. With that in mind, it is actually encouraging to see that the growth rate dropped to 31.7%.
3 Schools Shut Down for 2 Weeks
Cambridge Elementary in Surrey has been ordered shut down by BC Public Health, and will not reopen for 2 weeks (until November 30th) due to a COVID-19 outbreak among staff and students. Unfortunately, 1 of the teachers who tested positive is now also in intensive care due to the disease. Our best wishes and hopes for a speedy recovery go out to Darlene Lourenco (as well as everyone suffering from this terrible virus).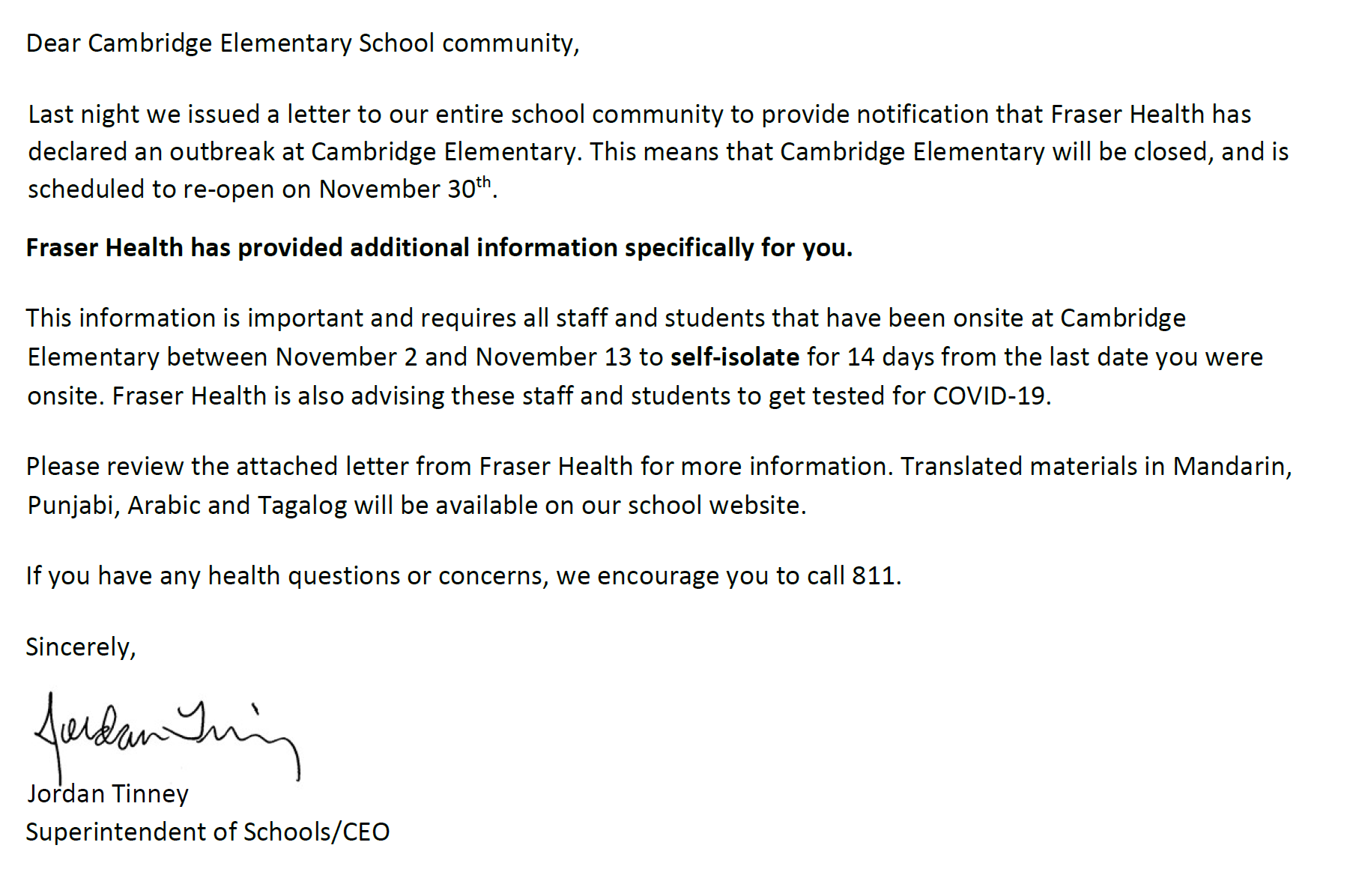 In addition to Cambridge Elementary, both Jarvis Elementary School in Delta and Al-Hidayah School in New Westminster are also closing for two weeks, but voluntarily. Both schools were suffering due to staffing issues caused by clusters of cases.
Moderna Vaccine Candidate Shows 94.5% Efficacy Rate
The world awoke to some very positive news this morning when Moderna announced that their first interim analysis of their vaccine showed a 94.5% efficacy rate in preventing COVID-19. This comes just days after Pfizer announced their vaccine candidate showed an efficacy rate of 90%. This is very encouraging news, especially because Moderna's vaccine only requires a -20C storage temperature, compared to the -70C needed for Pfizer's product. There is still a lot of information we would like to have regarding both vaccine candidates, but it is hard to not be cautiously optimistic with preliminary details like these. Data from the interim analysis of Moderna's vaccine candidate should be available here once it is released.
Hospitalizations Begin to Spike
Up until November 11th, the record for hospitalizations related to COVID-19 was 149 (April 4th). But now, as of November 12th, that record has been set and re-set with each new day, and it now sits at 181.
Thankfully we know from last Thursday's Public Health live stream that none of the health authorities have had to dip into their "surge" beds yet, and even beyond the surge bed capacity lies a further emergency-use bed allotment, set up in locations such as the Vancouver Convention Centre.
That's all for now, stay safe everyone!